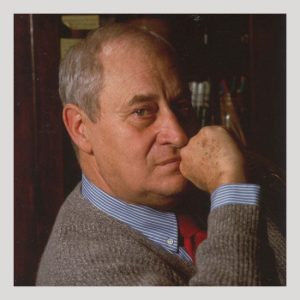 Gio' Pomodoro was born on November 17th 1930 in Orciano di Pesaro, in the countryside of the Marche near Urbino.
At age 15, he began attending technical high school in the city of Pesaro, where his family had recently moved. At age 18, Gio' was dispatched to Siena, Bologna and Florence to complete his compulsory military service – a period of time that proved to be fundamental for his subsequent developments. Indeed, in the homeland of the Italian Renaissance, Gio' Pomodoro was finally able to binge visit on museums and monuments, naturally fitting in the world of art galleries such as Galleria Numero, where he got to share his early "informal" works.
Upon his father's death, Gio' moved to Milan with his mother, sister, and brother Arnaldo. He came to a bustling city, with art galleries standing right in the middle of the hype.
 He began with his brother at Galleria del Naviglio in Milan and Il Cavallino in Venice, both owned by Carlo and Renato Cardazzo. 1956 was the year of Gio's first Venice Biennale - he brought a series of silver figures cast in cuttlebones he had begun working on in 1954, dedicating them to poet Ezra Pound.
The following year Gio' engaged in discourse with magazine Il Gesto and was featured in the Arte Nucleare exhibition at Milan's Galleria San Fedele. He was a fundamental drive in the Continuità group, showing alongside Dorazio, Novelli, Turcato, Tancredi, Perilli, Fontana, and his own brother Arnaldo at exhibitions curated by Guido Ballo, Giulio Carlo Argan, and Franco Russoli.
 In 1958 Gio Ponti presented the artist's solo show at Galleria del Naviglio.
After their mother's death, Gio' and Arnaldo moved to a studio at via Orti 19 where they remained until 1964. Gio' detached from the group connected to Il Gesto upon theoretical divergences of opinion, and undertook a new inquiry. After concluding his research into the sign-automatic gesture, Gio' focused on issues concerning the rational organization of sings and sign-making in the "negative", i.e. reliefs in series named Fluidità Contrapposta (Contrasting Fluidity). One of the pieces from the series was also shown in 1959 at Documenta II, Kassel.
The first Superfici in Tensione (Surfaces Under Tension) also appeared in the second half of 1958, and were presented the following year in Paris at the Galerie Internationale d'Art Contemporain. In the same year, a bronze Tensione earned him the Sculpture Prize alongside Anthony Caro at the first Young Artist Biennale in Paris.
In 1961 he held another solo show at Galerie Internationale and became the father of Bruto, born at the end of that year.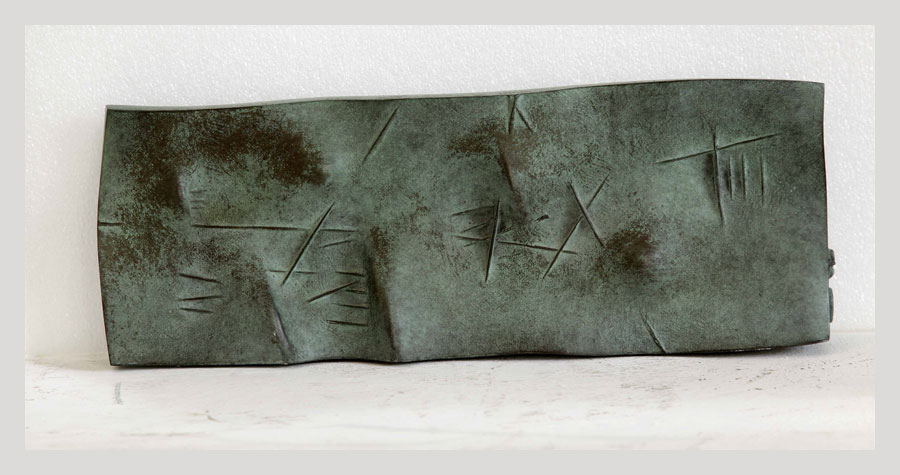 In 1962 he exhibited at Galleria Blu in Milan, Musée de l'Athenée in Geneva and, again, at the Venice Biennale, with a solo room presented with a catalogue by Guido Ballo. In the same year he signed an exclusive contract with Marlborough Gallery in London, only to discontinue it 5 years later.
In 1963, presented by Giulio Carlo Argan, he showed at the Palais des Beaux-Arts in Brussels.

In 1964 the Tate Gallery of London purchased the work One (1960), while at Documenta III in Kassel Gio' exhibited a series of Superfici in Tensione. He also created two large works in the Folle series (Crowds), one of which was acquired by GAM – the Gallery of Modern Art in Rome – and the other, the white marble Grande Ghibellina (Great Ghibellina), went to Nelson Rockefeller's collection.
In 1965 Gio' Pomodoro began working on his Radiali (Radials) and Strutture Portanti (Supporting Structures), exhibited at the Louisiana Museum in Copenhagen and the Musée des Beaux-Arts in La Chaux-de-Fonds. He worked on the Quadrati (Squares) series until 1966, using strictly the size of two metres by two: they were shown for the first time at Kunst-und-Museumverein in Wuppertal.
In 1967, after working on Black Liberator, he held his last show at Marlborough in New York and then signed a new deal with Martha Jackson, who would later present his Contatti (Contacts) , Sole di Cerveteri, to Gastone Novelli (Sun of Cerveteri to Gastone Novelli) – all based upon his research on Supporting Structures and Tension Fields. 
From 1968, Gio' began collaborating with Beatrice Monti and the Galleria dell'Ariete in Milan.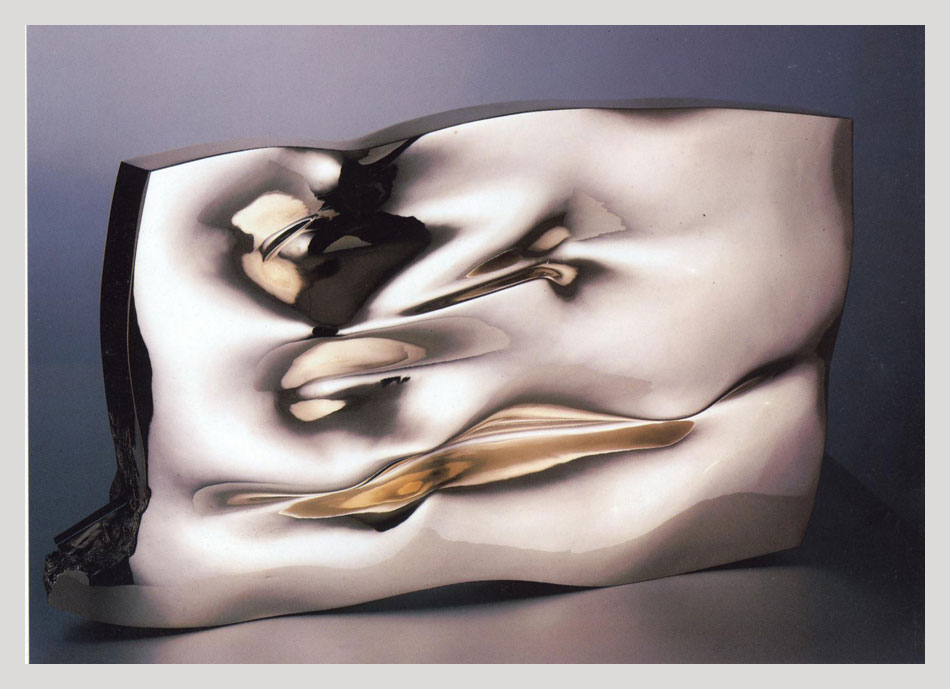 From 1970 Gio' Pomodoro continued his work in his studio of Querceta, right next to the Apuan Alps in the region of Versilia. His productions spanned materials such as stone, marble and bronze.
In 1972 he began two news series: the Archi (Arches) and Sole Produttore – Comune Raccolto (Sun Producer – Common Harvest).
In 1974 he exhibited his stone works at Galleria del Naviglio in Milan, presented by Guido Ballo. That summer he showcased his works since 1958 at his first anthological show, at Loggetta Lombardesca in Ravenna.
In 1976 two major shows took place: Brussels (Musée d'Ixelles, presented by Jean Coquelet) and Prato (Emperor's Castle). In May of the same year Gio' exhibited a series of Soli (Suns) at Galleria Stendhal in Milan with a review by Paolo Fossati.
In 1977 Gio' worked with the people of Ales, Sardinia, on Piano d'uso collettivo (Collective Plain of Use), a large public work dedicated to Antonio Gramsci. That same year he produced the monumental work La Porta e il Sole (The Door and The Sun) for a private collector.
In 1978 he curated the scenery of Verdi's La Forza del Destino at the Arena of Verona. Then, once again, he was invited to a solo room at the Venice Biennale.
In 1979 he began designing the monumental work Teatro del Sole – 21 giugno, Solstizio d'Estate (Theatre of the Sun – June 21, Summer Solstice), a fountain-square to be placed in Frankfurt to celebrate Wolfgang Goethe. 

The years between 1974 and 1980 have been full of group shows in and outside of Italy. 
In 1980 Gio' showed one of his most representative works, Luogo di Misure (Place of Measurements), in Piazza dei Signori in Verona. 
In the same year, after curating Mozart's Magic Flute at Venice's Fenice, Gio' created the architectural work Ponte dei Martiri – Omaggio alla Resistenza (Bridge of Martyrs – Homage to the Resistance) in Ravenna. In 1981 Galleria Farsetti in Focette (Pietrasanta) dedicated him a solo show, curated by Carlo Ludovico Ragghianti.
1982 was a very symbolic year for Gio': he began the "collective use" sculpture Spirale '82 (Spiral '82) for Milan's airport administration – now placed right in front of Malpensa airport – and Sole-Luna-Albero (Sun-Moon-Tree) in Ramazzotti square in Monza, completed in 1986.
 He took part in the exhibition Arte Italiana 1960-1982 at the Hayward Gallery in London.
In 1983, after moving to his new studio in via San Marco 50 in Milan, Pomodoro exhibited at Studio Dabbeni in Lugano with Dorazio and Nigro, and right afterwards in Volterra alongside Tilson and Ipoustéguy during the show Le materie dell'opera, presented by Antonio Del Guercio.
In 1984 he was invited once again to the Venice Biennale with a solo space, and he also took part in the show Il Linguaggio della Geometria at Berne's Kunstmuseum. 
In the same year a vast anthological show was also organized by the city of Pisa at Palazzo Lanfranchi (works from 1954-1984), followed by a show focused on the myth of Hermes at Galleria Stendhal in Milan.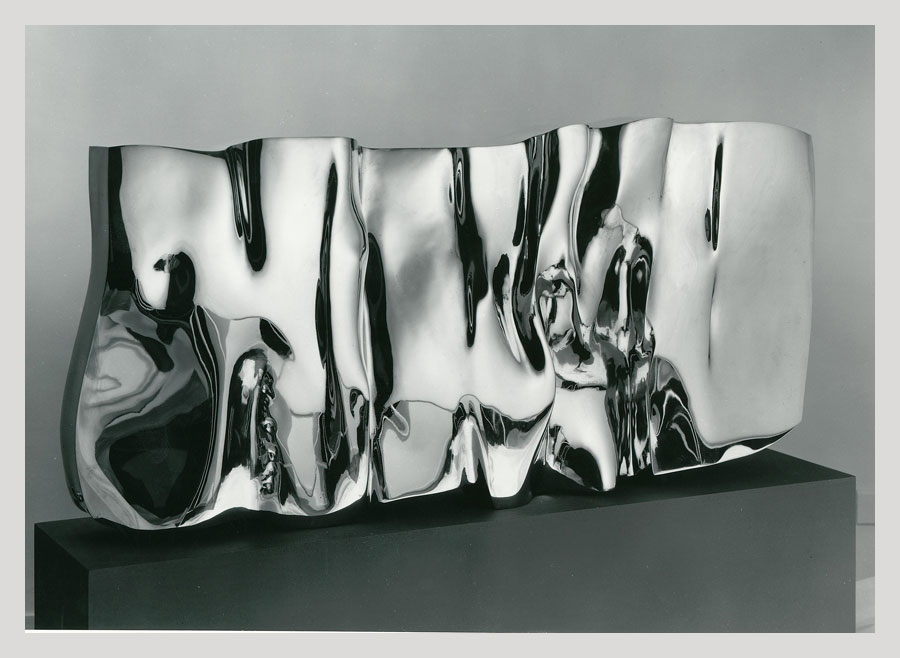 In 1985 Lugano paid tribute to Gio' with a solo show at Studio Dabbeni and the first exhibition of the Hermes sculptures at the City Hall. As a matter of fact, that show was as much a tribute to Gio' as it was a tribute from Gio' to Károly Kerényi, a distinguished scholar of ancient Greek mythology and religion who lived for a long time in the neighboring town of Ascona. 
Finally, still in Lugano, Gio' installed his monumental Montefeltro – i passi e il volgersi at Villa La Favorita (Montefeltro – Steps and Turns)
In June 1986 the artist was invited to show in the Danish town of Veksø for Veksølund-Copenhagen, curated by Jetta Sorensen.
In 1987 the city of Milan organized a show of his Soli series in the ancient Oratorio della Passione, presented by Luciano Caramel. In Fall 1987 Galleria l'Isola in Rome presented a solo show, with critical essay by Giovanni Carandente. Finally, in December, Tommaso Trini presented Gio's works at Palazzo dei Leoni in Messina, Sicily.
In 1989 the city of Milan tributed Gio' with another anthological show named La scultura e il suo disegno, presented by Guido Ballo and installed inside the ancient Rotonda della Besana. In summer 1989 commissioner Aeritalia donated Gio's sculpture Sole Aerospazio (Sun Areospace) to the city of Turin, which placed it in Piazza Adriano, presented with a text by Paolo Fossati.
At the turn of the decade, Caterina Zappia curated Gio's show named Luoghi scolpiti fra Realtà e Utopia at villa Renatico Martini in Monsummano Terme.
In 1991 Belgian Veranneman Foundation tributed the artist with a significant solo show. Shortly afterwards, Gio' inaugurated the monumental structure of Luogo dei Quattro Punti Cardinali (Place of the Four Cardinal Points), installed inside the public gardens of the city of Taino, facing Lake Maggiore and Mount Rosa, and presented with a critical text by Dario Micacchi.
In 1992 the Museum of Archaeology of Milan, partnering with Johnson & Johnson, dedicated a solo show of Gio's medals created from 1979 onwards. At the same time, the city of Pesaro installed his funereal dedication sculpture to tenor Mario del Monaco. 
During the same year three more important milestones were touched: a solo show at Rome's Galleria Ugolini, a show at the XVIII Triennale in Milan, and the inauguration of his Spirale per Galileo Galilei in Padova. The work was dedicated to the 400th anniversary of Galilei's groundbreaking tenure at the University of Padua, during which he also discovered the new satellites of Jupiter.
In 1993 Genia Schreiber University Art Gallery in Tel Aviv hosted Gio's works in a show named Gio' Pomodoro – Sculptures & Drawings, curated by Mordechai Omer. Almost simultaneously, a private collector acquired Scala Solare – Omaggio a Keplero (Solar Stairs – Homage to Kepler) and placed it in front of the main entrance of the University of Tel Aviv
In March 1994 a marble model of Sole Aerospazio, donated by the artist, was installed in the hallway of Galleria Civica d'Arte Moderna e Contemporanea di Torino. Galleria Berman showed Gio's Tensioni 1958-1993, with a text by Angelo Dragone. During the same year Pomodoro took part in The Italian Metamorphosis, 1943-1968 show at New York Guggenheim Museum, while later on he showed a selection of his works in the antiques shops of Milan's medieval borough of Sant'Ambrogio, presented by Alberto Fiz.
In 1995 the International Sculpture Center (I.S.C.) in Washington D.C. invited him as member of the board. That same year he held a solo show at Galleria Spazia in Bologna presented by Giovanni Maria Accame. Then, Director Peter Murray invited him to exhibit his works in the prestigious Yorkshire Sculpture Park, near Wakefield and, shortly afterwards, at the Italian Academy in London. At the same time the city of Venice, in collaboration with the Biennale and company Uno A Erre, organized an important anthological show titled Ornamenti, hosted in the spaces of Fondazione Querini Stampalia. The exhibition documented Gio's extensive gold production from 1954 on. That same show, thanks to Uno A Erre and Cesari & Rinaldi, would later travel to Arezzo, Tokyo and New York.
In 1996 Palazzo Vecchio in Florence held Gio's largest anthological show so far, where his marble and bronze works were exhibited alongside a selection of large paintings on paper focused on Gio's favourite theme of the Sun. The model of his monumental Sole per Galileo Galilei was shown there too. In the summer of '96 Gio' also realized a series of large granite and iron works in the Isle of Elba. He employed a technique, known as "a secco", that was used in ancient times. He dedicated the sculptures to the island itself, once a flourishing hub of metalwork and foundries.
In September 1997 the large sculpture Sole per Galileo Galilei was unveiled in Piazza Poggi on Lungarno Serristori: the work, made in bronze and pietra serena, is approximately nine metres tall and was donated by Gio' Pomodoro, Franca and Tullio Berrini to the city of Florence.
In Spring 1998 works by Gio' Pomodoro were shown in Padua Renaissance building of the Monte di Pietà, headquarters of local promoting bank Cassa di Risparmio di Padova e Rovigo. The show documented more than 40 years of sculptural and pictorial research, across a wide array of sculptures, drawings and photos by Lorenzo Capellini. On that occasion, the marble work Sole Caduto – a Galileo (Fallen Sun – for Galileo) was displayed in the cathedral square right in front of the shows' venue. In July 1998, the Region of Valle d'Aosta and exhibition center St. Benin held a show named Gio' Pomodoro: pietre e marmi 1965-1997, presented by Antonio Del Guercio. In addition to sculptures and large pictorial works being shown inside the museum, the whole city of Aosta became the setting for three open-air monumental works by the artist.
During Fall 1998 Galleria Fumagalli in Bergamo – with which Gio' had begun a constant collaboration – hosted the show Gio' Pomodoro – sculture e carte 1958/1998. At the same time the Egyptian Ministry of Culture invited the invited the artist to be a guest of honor at the VII International Cairo Biennial, with a personal room showing a selection of large sculptures and paintings. Finally, in November, Turin's Galleria Berman presented Gio's studies for large works in the exhibition Studi per grandi opere 1954-1994.
In 1999 Galleria Fumagalli dedicated an entire pavilion of Bologna's ArteFiera fair to large sculptures by the artist. In spring Belgian Veranneman Foundation hosted him again for a show focusing on his sculptures, works on paper and, quite specially, a selection of his jewels. Upon completion of the show, the Foundation acquired the large white Carrara marble work Sole caduto – a Galileo and included it in its sculpture park. In November he was invited to hold a workshop as Master Artist at the Atlantic Center for the Arts in Smyrna Beach, Florida.
In April 2000 Gio' Pomodoro was awarded the Guglielmo Marconi International Prize for Sculpture, while in May the town of Laives – along with the Province of Bolzano – dedicated him a show titled Sul sole e sul vuoto, curated by Pier Luigi Siena, with text by Marisa Vescovo. The two institutions also acquired the large bronze work Scala Solare – omaggio a Keplero, which is currently installed right across the town's school. In June he was invited by the Dean of the University of Urbino, Professor Carlo Bo, for the presentation of a book edited by Giovanni Maria Accame, Gio' Pomodoro: opere disegnate 1953-2000. One month later, Tensioni e Soli was presented at the San Pietro museum in Colle di Val d'Elsa – the show was an impressive display of sculptures and drawings. Gio' Pomodoro was also part of the historic show Novecento: Arte e Storia in Italia by Maurizio Calvesi and Paul Ginsborg, organized by the city of Rome.
In February 2001 the Italian Institute of Culture in Köln, Germany, tributed the artist with a solo show of paintings while in October, during the G8 summit in Genova, he got to install his monumental Sole – agli Italiani nel mondo (Sun – For the Italians in the World), donated by GNV ferries and dedicated to the city and its harbor. The project was realized within the framework of the Artisti Italiani del XX secolo: dalla Farnesina alla Stazione Marittima.
 This was the last monumental work that the artist managed to see installed.
In April 2002 the International Sculpture Center bestowed upon him its very prestigious Lifetime Achievement Award in Contemporary Sculpture – a first time for an Italian artist. To celebrate the achievement, Galleria Giorgio Marconi organized a solo show of sculptures and watercolor paintings in Milan.
 Finally, in July, Pomodoro took part in the 5th edition of the show In Chartis Mevaniae, organized by the cities of Bevagna and Spoleto, curated by Giovanni Carandente.
Gio' Pomodoro died in his Milan studio on December 21st of 2002.
In 2003 his first posthumous show opened at Fondazione Ragghianti in Lucca and in 2004 the Auditorium Parco della Musica in Rome hosted an exhibition dedicated to his sculpture and theatrical scenographies. In the following years, many of his public monumental sculptures finally came to fruition, such as the large Vela of Sestri Levante (2003), an in memoriam of Carlo Bo; or Sole deposto (2004) in the square dedicated to him in his own hometown of Orciano di Pesaro, which he devised in 1986. Finally, in 2005, the Sardinian city of Carbonia hosted the monumental Frammento di Vuoto in the just-renovated Piazza Roma.
From 2003 until today, in Italy and abroad, group and solo exhibitions about Gio' Pomodoro have been curated in public and private institutional locations, squares and events. In 2018 Palazzo Ducale in Urbino, venue of the National Gallery of Marche dedicated a rectrospective to Gio' Pomodoro. For the first time a contemporary artist was displayed in a dialogue with the historical art works of the precious colletcion of the museum. Gio' Pomodoro of the Marches, citizen of the world, returned to his Montefeltro.